a fine dog, a TERRIFYING novel
Today's Featured Pet is Rose, and she is absolutely gorgeous: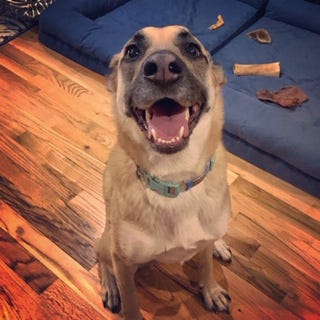 Her human companion, Elizabeth, reports:
"Rose is a genderfluid vermin assassin sent by God via the SPCA to make our lives markedly better. She's super fast and when we jog together with a belt leash she pulls me like Blair's Iditarod team. She's begrudging affectionate, especially at night. She usually sleeps at my feet, but when my husband has a night terror she sleeps between us as my protector. I would run into traffic for her."
I am so happy for Elizabeth and Rose and the SPCA.
---
Today's horror novel recommendation is SCARY AS ALL HELL, this is not, like, atmospherically creepy. Do not read it unless you are a truly committed horror fan, okay? Promise me!
Yrsa Sigurðardóttir, an Icelandic genius, destroyed my life by writing I Remember You: A Ghost Story. It's maybe the scariest book I have ever read (scarier even than The House Next Door, when it comes to absolute terror.)
The publisher's description DOES NOT PREPARE YOU FOR THE REALITY OF THIS BOOK:
In an isolated village in the Icelandic Westfjords, three friends set to work renovating a rundown house. But soon, they realize they are not as alone as they thought. Something wants them to leave, and it's making its presence felt. Meanwhile, in a town across the fjord, a young doctor investigating the suicide of an elderly woman discovers that she was obsessed with his vanished son. When the two stories collide, the terrifying truth is uncovered.
There is also a very very scary film adaptation on Netflix. Do not watch it alone.
---
So, bc we are Dog Fools, I found myself getting obsessed with sponsoring one of the wolfdogs at the Shy Wolf Sanctuary, so this is Kiya, we cover her medical costs now:
In October of 2014 Shy Wolf Sanctuary was contacted by individuals concerned about the welfare of a young wolfdog being offered for placement or rescue. The owner had purchased the dog from a known breeder prior to being diagnosed with a serious medical condition which required her to move into her daughter's home. Kiya was being kept in one room due to the daughter's dislike of large dogs and had somehow escaped in June. While out, the young pup was hit by a vehicle and had two broken legs. The person who contacted us had seen photos of Kiya with an old beat-up surgical cone and duct tape leg dressing and was very concerned the dog would lose its leg.

Due to the sensitive nature of this rescue, and needing to get the dog surrendered by the owner, two of our more experienced volunteers agreed to go evaluate the situation and condition of the pup. As prior adopters, they both had a great deal of experience with wolfdogs and were able to win the trust of the owner. Our volunteers were able to win the trust of the owner and get her to release Kiya to them. Their first stop was to a veterinarian to get Kiya's legs x-rayed and to determine how to proceed.

The story was one of serious neglect. One leg had been surgically repaired while the other was poorly splinted by the owner using duct tape. Kiya lived in a house full of smoke and had to go to the bathroom in the one room she lived in. She hadn't even had a bath in the months since the vehicle accident.

With all that Kiya went through, it is no surprise that she had a confidence issue. No matter what our volunteers did, she always preferred being outside and they had to "win" her trust over again and again. Circumstances changed and the sanctuary had the opportunity to introduce Kiya to one of our residents. She wants to be outside, wants to play, and is overall a happy and loving girl. It was a huge success and Bogie became Kiya's new beau…with them sharing the foot tub and running and playing all day at the sanctuary!
I was in terrible danger of wanting to go adopt Harley, but the sanctuary is super clear that she would not be happy with both a cat, small kids, AND a large female dog who is used to getting…so much attention:
Harley is a 3 year old spayed female husky looking for a forever home. She's been a house dog and is great with people once she's met you and is comfortable. Due to her shy nature, homes will only be considered in which the adopter could come and spend time getting to know her prior to adoption. Harley is a very low content wolfdog and surrendered by her previous family. She will need a home experienced in Northern breeds, fenced yard, and to be the only dog or possibly a companion to a male. We do know that she has displayed some jealousy when another female dog was receiving attention. She was introduced to a cat, but with minimum interaction so we recommend a home without a cat. Harley will need to meet any potential canine friend prior to placement as well. She's super sweet and has stolen the hearts of our volunteers! Harley is learning how to play, go for walks and really seems to enjoy her car rides
Loookkit that face!
---
DOG CONTENT OVER. I PROMISE.
---
A hearty thank-you to all the readers who found and sent me the link to the dress Aya Cash was swirling in. A mere $25k! I did, in fact, buy the very expensive snake ring I was tweeting about (NEWSLETTER CONE OF SILENCE) but that dress is beyond me. I'm hoping the ring doesn't fit right or doesn't quite suit me or isn't comfy so I have to send it back, but I am also hoping it immediately bonds to me like, well, the Red Shoes (I know that doesn't end well):
---
Friend of "Nicole Knows," Sarah Archer, wrote this FASCINATING thing on kitchen design as a 20th century phenomenon and you should read it right now:
Second, after World War I, women who had formerly worked in domestic service began pursuing better paying kinds of work, like teaching, nursing, retail, and factory labor. The Great Depression wiped out much of the recently accrued wealth of the 1920s, and many families learned to do without housekeepers and cooks, sometimes for good.

As if on cue, manufacturers had just the thing: appliances that were advertised, as in one especially glamorous Westinghouse print ad from 1922, as "invisible servants." In the 1920s and '30s, modern appliances were sometimes seen to substitute for household staff in families that could no longer afford help, or they could make domestic life easier for families that had never had help in the first place. Julia Child would later refer to these people (which is to say, the vast majority of humanity) as "servantless"—an idea so novel in the context of gourmet cooking that it needed its own special term.
I also adored this look at NYC through the very hazy lens of Law & Order shooting locations, by James Nevius:
I'm not pining for some misremembered past. When Law & Order debuted, muggings and homeless encampments were a day-to-day reality in the city—as was murder. In 1990, the city's annual homicide rate reached an all-time high of 2,605 people. The previous year, Trisha Meili, commonly referred to as the Central Park Jogger, had been raped and beaten in the northern section of the park. But that tragedy didn't alter the fact that Central Park also continued to be used by thousands of people every weekend without any of them becoming victims. From picnics to ball games to Shakespeare in the Park, Central Park remained a vital part of Manhattan.

For many years, I've guided architectural walks around the city, and one sunny spring day I was waiting for a solo female traveler to begin a Central Park walk. I could tell she was nervous when she booked the tour, so my wife had tagged along to greet her. This customer scrutinized my tour-guiding license, while behind us, the park blossomed with joggers and families pushing strollers toward Sheep Meadow. The Meili case may have been on this woman's mind, but having guided thousands of people through the park over the years, I can tell you this: the Central Park jogger is rarely mentioned. Most people have only a vague awareness of the case anymore. If the exoneration of the Central Park Five hadn't been a major news story, the case might be entirely forgotten by now. By contrast, pop culture has made an indelible mark: Everyone wants to know where Kevin met the Pigeon Lady in Home Alone 2. I can't tell you the number of times I've walked under a Gothic bridge in the park to have a visitor make the "dun dun" sound; I see them looking around for a body.

To them, Law & Order's New York is New York.
The other piece I wanted to share today is by Julie Bogen, and it's about how terrible the job market is for military spouses (which is, of course, why they get sucked into so many MLMs):
A recent Department of Defense survey found that a quarter of military spouses are unemployed—a rate roughly six times the 2017 national average of about 4 percent (according to the Bureau of Labor Statistics) and nearly two and a half times the rate in the majority of the country's most impoverished neighborhoods. I've lost track of how many fellow military spouses have told me they abandoned careers they loved and were proud of solely because of the obstacles the military life presented. I am lucky to work in an industry that can often accommodate remote work (since my husband is training to be a Navy doctor), but for so many people this isn't the case. And, for that matter, I myself don't know what I'll do if we ever end up stationed in Japan or Hawaii, because the time difference makes being awake during continental–United States working hours essentially impossible.

The only other population with a similar rate of joblessness is the Kusilvak Census Area in Alaska, where the unemployment rate is about three points lower. Of the military spouses who do work, more than half say they are working in positions that they are overqualified for. And many aren't earning very much: According to a White House report, military spouses earn on average 26.8 percent less than their nonmilitary peers, amounting to more than $10,000 of lost income each year.

Military spouses are at a unique disadvantage when it comes to finding gainful employment. Frequent moves among duty stations are riddled with complications and expenses, ranging from the seemingly insignificant (such as delivery errors and damaged personal belongings) to the higher-stakes issues of finding new schools or nannies or daycare for a family's children. Almost a third of military families report more than $1,000 of unreimbursed expenses during their last move, and 72 percent cannot obtain reliable access to child care.
---
It's Tournament of Books season over at The Morning News!!!! Some fabulous battles will be had, go check out the contenders post-haste.
---
RIP, Tim Conway. You will always be Bucky Bright to me:
---
guys, you HAVE TO TALK ALL THIS SHIT OUT FIRST and be HONEST about what you want:
To start my story off, let me give you some background info. I am a woman. My husband is a bisexual male leaning more towards straight, but is still bi. We have only recently gotten married, about 9 months ago. Before that we dated for a couple of years. My husband has always wanted to have a threesome with another bi man, as he could please both of us. I wasn't too comfortable with doing this, but last week, I finally agreed. My husband is very in with the lgbtq+ community in our area, so he knew exactly who he wanted to join us right away. We scheduled to have this event partake three days after my agreeing at the friends house, who we will call jim.

Now fast forward to four days ago, the day of the threesome. I was very nervous, but my husband was excited to " finally be able to have a good man in him" as he said. We got to jim's house, and were brought inside. We had a few drink and then started. I don't want to make this too NSFW but what i will say was that both of them were involved with each other and me in multiple ways. But I guess my husband wanting for men was more than i expected, because after a few minute of foreplay and intercourse, it turned into my husband and jim just having normal sex. I saw what was happening, grabbed my clothes, ran out the house and into my car, and drove away almost in tears. Some people might see this as an overreaction, but in my mind, all my husband was doing was cheating on me with another man. I later texted him and told him he could stay at jim's house overnight, he wasn't welcome here. Later the next day jim dropped my husband off, who was not apologetic at all. He was mad at me for driving away, saying that he did nothing wrong, and that he just wanted to satisfy his needs. Most of our other friends also sided with him, saying that he needs a man every now and then.

So what do you think reddit, AITA for having a "threesome" with my husband and his friend?
wow, this is actually one of the milder "family member took out debt in my name" situations I have seen:
Like the title says, my sister (2 years older than me) opened a student loan in my name 8 years ago, just after I turned 18.

The only reason I found out was because I got a letter a few months ago from the servicer who holds the loan giving me the amount of interest paid on it last year for taxes. I thought it was a mistake at first but when I told my mom about it in passing a couple of days ago, she said she thought my sister had paid off the student loan.

Yesterday, I dug around a bit and found the letter, called the company, and found out I have about $15,000 more in debt to my name than I thought because of it. I'm going to be buying a house soon and I'd rather this just go away completely but the servicer insists I'm on the hook for it. For what it's worth, she's never missed a payment on it. What would I do in this case to get the loan company to make her responsible for it?

Edit: I'm in Wisconsin. To be clear, my parents didn't know about it and they are pretty pissed. My sister has a good job and I think she might be able to pay it all back in one go. She's literally never been in trouble with the law before and (before this) seemed like a great person. She graduated 3 years ago and the original amount of the loans was $65k, she's paid $50k in 3 years.
WHAT:
So at the weekend, I went to a 30th Birthday Party at a Local Bar. I ordered my first drink, a pint of Coors. Upon taking a decent gulp, I could only taste bleach. I went back to the Bar and explained and they said, it's probably just the recently washed glasses, we don't use this function room very often so we've just had to wash them all. She pulled me a second pint, and I stupidly had another sip. Again, a very strong taste of bleach. I asked for the manager, and he came over. I told him I suspected it was line cleaner. He took it away and came back and said, yes it's Line Cleaner, he'd done a clean but not flushed or checked the lines; but you'll be alright and you can have free drinks all night. I wasn't really happy with this so I asked for the COSHH sheets that should be kept on premises. He went away and then came back and said he couldn't find any sheets, but he'd found a bottle of the fluid, 'Pipeline Original'. He got me some water whilst I read the data sheet for the liquid which I'd downloaded off the manufacturers site.

By this point I was starting to feel unwell, with my stomach burning so I rang emergency services and they said I had to go to Accident and Emergency. I went off to hospital and had bloods, and ECG's done. The doctor called me back in and explained that I had high levels of acid in my blood and my ECG's and pulse were abnormal and I'd need to be admitted to hospital. He said he'd had many cases of people drinking toxic substances and people can all react in different ways. For some people it does the damage immediately and for others it can sit in the stomach and regardless of dilution burn the lining over time and cause abscesses or strictures. I was then admitted for observation and more tests. The next morning, the doctor on the acute assessment ward listened to my stomach and said he could hear the reaction. They kept me under observation and eventually discharged me, but not before reading some information to me from Toxbase and explained i'm now 3000 times more likely of developing stomach or esophageal cancer. GREAT! He explained i'd need to be followed up for an endoscopy but that symptoms could still develop over the next few weeks and months.

Whilst I was in hospital, my parents visited the bar and low and behold the regional manager had appeared (the following day on Sunday). He was aware of what had happened but was still unable to produce any COSHH sheets. He explained that the line cleaning fluid has an inbuilt safety device that if still present in beer, the purple liquid would change the entire pint green... so people would know it's still present and not to be served. My dad suggested that they did a test, he pulled a pint of Coors and poured in the liquid, low and behold it didn't turn green but stayed the same colour. My parents explained to him that it was reported to the police at the advice of the doctors and also to HSE (who the bar should have reported it to but haven't) and also the Local Authority.

I do not want this to happen to somebody else and so hopefully this can be dealt with by Environmental Health and HSE but I also feel I should take legal action for their negligence and for the potential future health problems I could have. Does anybody know what sort of success I would have, or steps I should now take?
she snapped, and good for her:
---
Okay, let's have a FEW music videos and then get our day going!
scissor sisters always gets me in the mood to crush it
takin' it back to Electric Six
into the wild by lp is my ski song and sometimes it gets me in trouble but I'm not dead yet
i am a jason derulo stan and this is actually a perfect song
---
Love you, darlings. Love you so much.
n