Monday! I am in SF!
(well, I will be)
First of all, this is also how I would look if I saw Meghan Markle in person:
---
Today's Featured Pet of the Day is Moose. Look at this mug.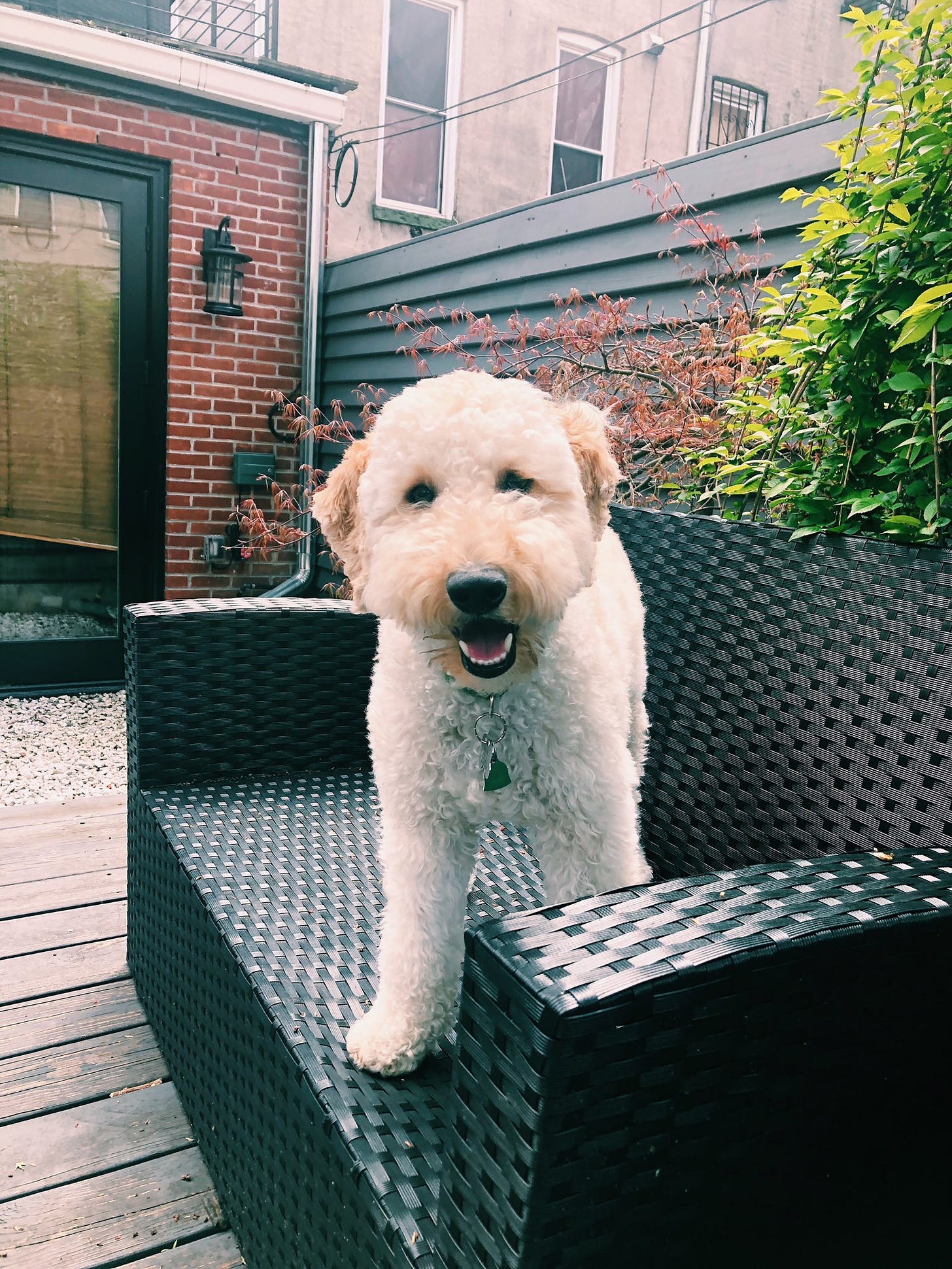 Jazmine, his human companion, informs me he is a one-year-old Labradoodle, who "loves to jump (apparently a labradoodle thing), and can jump so high that he regularly licks my nose when I'm standing upright." There was a video, but just for me.
"Here he is with his most cherished possession, a ball that emits a beef smell when you chew on it. But he wants you to know he loves balls of ALL sizes, beef flavored or not."
"He just took his first cross-country plane ride to LA (from New York) and had the time of his life in California smelling new flowers and rolling in the grass."
Thank you so much for sharing Moose with us, Jazmine!
---
maddening, unsurprising:
Sarah Milov was sitting at her kitchen table, nursing her baby, when she saw the tweet.

"It took substantial government support to create Americans' dependency on tobacco," wrote Nathan Daniel Beau Connolly, a professor of history at Johns Hopkins University. "@edward_l_ayres and I talk with @jeremyhobson about the regulation of tobacco on this week's @hereandnow." Connolly ended the tweet with a "shout out" to Milov, an assistant professor at the University of Virginia whose forthcoming book, "The Cigarette: A Political History," provided virtually all the material for the segment, which aired on Thursday.

Unfortunately, "Here & Now" — a radio show co-produced by NPR and WBUR in Boston, which is syndicated to approximately 5 million listeners — did not grant Milov the same courtesy. The three men on the segment, two historians and an NPRhost, never mentioned Milov's name or the name of her book.

"Every single word they said was from my book," said Milov in an interview with The Lily. While the historians did not quote directly from "The Cigarette," she said, every cited fact was taken from its pages. "Then I got to the end of a nearly 10-minute segment and did not hear myself credited at all."

Connolly and the other historian on the segment, Edward Ayers, are hosts of "BackStory," a historical radio show sponsored by Virginia Humanities, and are frequently asked to appear on "Here & Now." "BackStory" researchers helped prep Connolly and Ayers for the segment, providing them with talking points from Milov's book, said Diana Lynn Williams, digital editor and strategist for "BackStory."

"We regret the omission," "BackStory" wrote in a tweet on Friday. "We want to be sure that BackStory always gives credit when it's due." In an interview, Williams added that BackStory takes full responsibility for what happened. "Somewhere along the way we dropped the ball," she said.
---
---
I'm not sure what these things have to do with each other but that piece was homophobic trash:
The backlash was swift and fierce. The New Republic apologized and retracted a piece by Dale Peck titled "My Mayor Pete Problem" shortly after its publication Friday. But that was not enough to quell anger over the piece that was quickly criticized on social media for being homophobic and vulgar. In the piece, Peck referred to Buttigieg as "Mary Pete" and speculated about his sexual activities, saying he would be too sexually promiscuous to make a good president. The New Republic removed the piece from its site and replaced it with an editor's note. Win McCormack, TNR's editor in chief, apologized on Saturday saying that it was a mistake to publish he piece that was "both inappropriate and offensive."

As a result of the controversy, TNR has dropped out as co-host of a climate forum scheduled for September. TNR and Gizmodo had announced the "presidential climate summit" on Thursday, billing it as an opportunity to devote a significant amount of time to listening to candidates' plans to deal with climate change. But TNR dropped out of the event after several sponsors said they would no longer participate due to the piece that Gizmodo characterized as "an offensive, homophobic attack on Democratic candidate Pete Buttigieg." In a post, Gizmodo wrote that it supports TNR's decision to no longer be a co-sponsor of the forum: "This incident was entirely inconsistent with our values as journalists and with the inclusive atmosphere we intend to foster at the event."
(I'd vote for Elizabeth Warren, but I went to college w Pete and he was always lovely and kind to me and also once physically put his body between me and some guys who were getting scary at me outside a bar and I was so disgusted by that piece.)
---
I'm so glad this person wrote to Captain Awkward:
Dear Captain Awkward;

Hello! I am 48 years old, pronouns she/her, and having trouble with my parents, specifically, my mother and her hoarding. My mom is trying to give more stuff to me than I can handle, and the lever she pulls to make it more painful is, "but it was your grandmother's." if I take everything that falls into this category, my home will be a literal shrine to my grandmother, and that's spooky.

A year and a half ago, I quit working full-time to take care of my parents. For various health-related reasons, they couldn't care for themselves anymore. They are due to move into a retirement community in about six weeks. My mom's hoarding problem has been Bad since the 90s, and worsening since. They can still use normal sanitation (toilets, trash cans), my mom can bathe and groom herself when she wants to, they have clean bathrooms available, my mom can prepare meals and do laundry, as long as I'm there at least three days a week to clear her clutter away from high-traffic areas.

My father's mother was a nearly perfect person. She was a perfect hostess, wife, mother, friend, volunteer, grandmother, great-aunt. Everyone who knew her loved her. She was always generous with time, effort, money, support. I look a lot like her, and apparently a lot of my mannerisms are similar.

My father's mother died when I was 23. I went into a spiral of unhealthy behavior for about ten years after that, but managed to pull myself out.

When I was growing up, my mother's mother died when I was about five, and my father's mother filled that void for my mom. When my dad's mom moved into a retirement community, we inherited most of her furniture. When she died, we inherited the rest of it. My mom developed a fascination with antiques and ceramics, and a bad shopping habit. She started volunteering at her church thrift shop (as my grandmother did), and brings home stuff every week, unless I'm there to stop her from doing it.

My husband and I moved into a new house, to take on the responsibility of having my brother (who has autism) move in with us. My mom feels that "part of the deal" is that I will take her furniture and collectibles, most of which were my grandmother's. This "deal" feels like I'm taking on all the physical and emotional responsibilities that my grandmother did in the past: being the family maternal type who does all the physical and emotional labor, creating the perfect home, etc.

So, now, "but it was your graaaandmother's" is an argument that's applied to everything from the armchair upon which she stitched the needlepoint cushions, to warped Tupperware from the 1950s. It's bad enough that my mom thinks she should save everything (jars, twist ties, junk mail, anything) and re-use it, because my grandmother was always thrifty. My grandmother wasn't a hoarder. She used the same wrapping paper for Christmas every year, she had a "waste not, want not" mentality, but that was an exception to a general rule.

I'm already getting therapy for my own hoarding tendencies. My husband gets exasperated with how slowly I sort out a box of stuff, but I have practice getting rid of things that I don't need, and I'm getting to be good at it. I like making a box or bag of donations on a Saturday or Sunday morning, taking it to a donation center and going for brunch at the diner afterwards.

The rock-and-a-hard-place moment happened a week or so ago. I said that I regretted not being able to develop my own taste. That made her really mad. I have said to my mom that I need to make my own living environment look the way I like it to be. I've said that I need to make my home comfortable on my own time table. These statements made her angry. She expects that I will furnish and decorate my home with my grandmother's things, in my grandmother's style. She wrote me an angry email saying that I have no taste, that I need to develop an eye, and that someday I would come to realize that my grandmother's furniture was better than anything else out there. When I asked my mother about it, she pretended it wasn't a big deal and laughed it off.

If I accept all of the stuff that my mom is pressuring me to take, my house will look like an overloaded furniture store from the 1920s, with framed family photos on every wall and surface, and my grandmother's wedding dress on a mannequin. I don't want to live in a shrine or museum.

Behavior, rather than stuff, is an issue here too. Because of my dad's health issues, he behaves like a child most of the time. If I treat him like how his mother would treat him, we get along fine (i.e., "sure, you can have another cookie before your nap."), but if I treat him like a daughter, he gets angry, My mom needs me to indulge her rather than give her structure, i.e., "we don't have to fold the laundry, you can take a nap." I think they expect me to take care of them as my grandmother took care of others.

I miss my grandmother every single day, and no objects will change that. I'd rather remember her for the things she did and said, rather than the things she bought and kept. I'd like to move on with my life and do new things.

So, how do I say to my mom, "please stop expecting me to be Grandmom?"

Thanks for your time and consideration.
Sincerely,
Shackled To Heirlooms
---
this is a very intense read:
On February 10, 2002, in a New York State prison cell, the bestselling author and twice-convicted killer Jack Abbott hanged himself with an improvised noose. That same day, the body of the man I murdered washed ashore on a Brooklyn beach in a nylon laundry bag. My reason for connecting these two events is to try to account for my crime, to understand better why I did it, and to describe what Abbott's legacy, as a prison writer of an earlier generation, has meant for me as a prison writer in this generation.

Jack Abbott was one of America's best-known prison writers of the twentieth century, though it can be hard to tell how much this was due to the merits of his work, to the high profile of some of his supporters, who included Susan Sarandon, Christopher Walken, and Norman Mailer, or to the public's fascination with his propensity for violence. Writing gave Abbott a second chance in life, and in 1981, after serving eighteen years, he was released on parole. Shortly thereafter, he killed again. He never came back from that. His supporters, and even his will to write, deserted him. He died, much as he had lived, alone and angry.

When I started my stretch behind bars in 2002, I had never heard of Abbott. After I read his work, I came to identify with parts of his conflicted character, and I have at times taken inspiration from his writing. But I also resented how Abbott's actions after he was paroled cemented a mistrust of prison writers and prison writing programs at a time when public opinion was swinging away from the prevailing liberal consensus in favor of rehabilitation.
---
(lucille bluth "good for her!" gif):
Amanda Large Teague was meditating the first time she says she met the ghost of a 300-year-old Haitian pirate. She thought he was rude to interrupt her solitude, so she told him to leave. Then he showed up again.

The third time he visited, Teague, of Belfast, said she decided to talk with him.

After she communicated with the ghost for several months, Teague said, she became convinced he was Jack Teague, who she later claimed had inspired the character of Captain Jack Sparrow in the "Pirates of the Caribbean" movies. (Experts challenge these assertions.)
---
Two white women in this café asked the barista where she was from and she said "Colombia" and one of them repeated the word back to her with an exaggerated accent and then laughed and said "Just kidding, I'm not like that. Can you imagine?" Yes I can! I can imagine it so well!!!
---
MUSIC VIDEOS:
Peter Allen doing my fav:
(He also Goes to Rio)
david bowie
meryl at the end of "postcards from the edge" doing one of my fav songs
and, of course, the other perfect song featured in that movie (the autobiographical novel by Carrie Fisher is so good)
let's hear dame shirley bassey take it!
okay, and elaine stritch, bow down
AND ELAINE PAGE
okay okay new song, Red Vines by Aimee Mann
Lace
the bitch is back
laurie anderson x=x
i personally love lana del ray
chevy chase being an asshole takes nothing away from a perfect music video
eels ps you rock my world
and you do, collectively, rock my world. I love you!
xoxoxoxo
n