We Made It!
it means nothing, but we made it
Steve said Portrait of a Lady on Fire is "an incredible film", so our home is now one of harmony. I made him put aside his devices for the final unbroken Vivaldi Feelings shot, and I was right to do it. My father is extremely into Tiger King, because he has always assumed the US was exactly like Tiger King, and all the work I have put into broadening his opinions on the US is swiftly going down the drain. But I'm glad he has something to do. I'm watching the American remake of the American remake of The Grudge, and it's not good, but it has John Cho in it and also Jacki Weaver (a great Australian) and Lin Shaye, who is really good at being terrifying. If you have been terrified by an older woman in a horror movie, it was probably her. She's great.
Now, how about a Featured Pet of the Day? Meet Nelson:
His human companion, Sophia, offers the following Nelson-related intel:
"Nelson was born in a barn (something I remind him of whenever he is especially rude) and then I met him in a distillery about two years ago. When he was a kitten I picked him up every day when I got home from work so he would get used to being held. This got more complicated in the winters when I would come in wearing gloves and million layers and he would demand to be picked up immediately but it was worth it overall."
"I live alone so he is a big source of joy and companionship. He loves people but hates other cats. The jury is still out on dogs. We are currently sheltering in place at my parents house, where he is enjoying napping by the fireplace, playing on the stairs, sleeping under the covers, and watching the wildlife."
"Since I am working from remotely I've learned that he likes to play all morning…"
"and sleep all afternoon."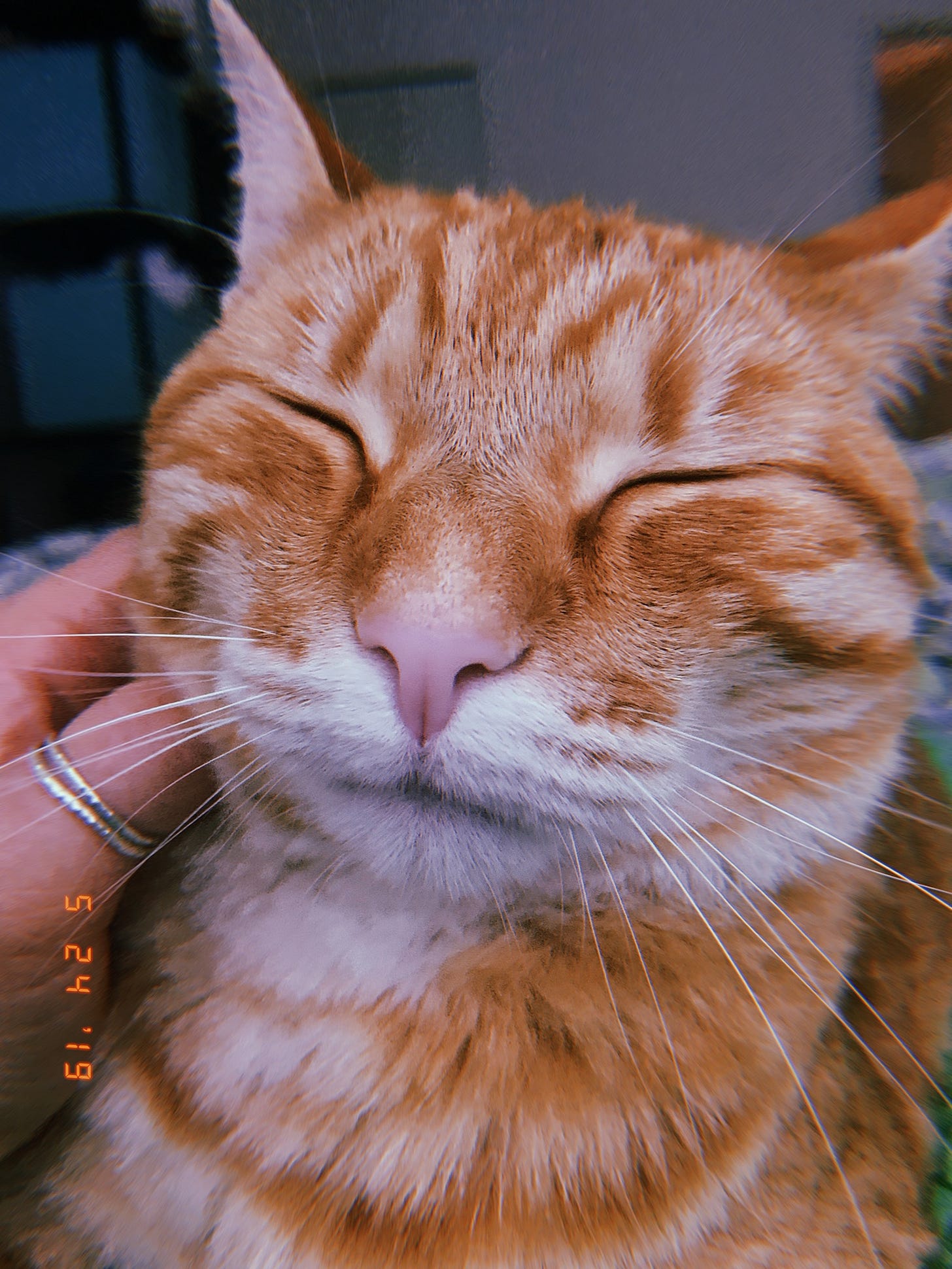 Thank you, Sophia! We are so happy to get to know our new friend, Nelson.
---
THIS PERSON IS BAD AND YOU SHOULD DUMP THEM, FUCK:
So, long story short: I'm schizophrenic. Got properly diagnosed at 18 but have honestly struggled with the symptoms since I was about 15. It's been a very rough uphill battle, but I'm doing well now. My therapist is absolutely amazing and I've found a medication that agrees wth me. I won't pretend that I don't still have problems, but things are definitely manageable now.

As of the start of this year, my girlfriend and I moved in together. She's always been a bit of a practical joker, but they've always been relatively harmless things like changing the settings on my phone so "hey" autocorrects to "butts", or wearing a ridiculous hat and refusing to acknowledge it or putting framed photo of Nic Cage up on our mantlepiece and waiting for me to notice. They're not always super funny, but they're never anything serious.

Now that we're on lockdown, she's taken it upon herself to try and play this pranking game. So far we've had salt in the sugar bowl, toothpaste Oreos, a plastic spider in the bathtub and a day where she'd call me over to "come see what's outside!!" when there was nothing outside. It's slightly annoying, not gonna lie, but seeing the way her lil face lights up and she laughs and goes "gotcha!" makes it kinda worth it.

Yesterday, however, she crossed a line big time. I keep my medicine on my bedside table because I take it first thing in the morning. When I woke up yesterday, it wasn't there. I asked my gf if she'd seen it, and she said that she hadn't. I started to panic a bit then; I never move the meds from the bedside table bc I never need to. Still, she suggested maybe I put it down somewhere else and forgot, which I've a habit of doing with my keys and phone and stuff, so I started searching for the pills. I pulled out everything from our bathroom cabinet, searched the kitchen high and low, went through every bag and pocket I own, dumped everything out of every drawer in our bedroom... I even started looking in ridiculous places where they would never feasibly be like the airing cupboard and the fridge and our storage space in our buildings basement. I looked for a good 45minutes-1hr and they weren't anywhere. Whole thing ended with me sitting on the kitchen floor in floods of tears with no idea what I was gonna do.

And then my girlfriend goes "Gotcha!"

Obviously my reaction is "what the fuck?!" Turns out she had hold of my medicine this entire time and was hiding them from me as a prank. I'm not proud of it but I absolutely blew up. I asked her what the fuck was wrong with her and how the fuck she could ever be so cruel. I asked her if she fucking understands what life is like for me when I'm unmedicated and I said something along the lines of "I'm glad you don't know what this shit is like but some of us don't get to coast through life without this kind of help". She kept repeating that she thought I could take a joke and she thought I would laugh. I told her that I'm glad my mental health is a joke to her and she started crying, saying that wasn't the case and that wasn't what she meant. I just took the medicine from her and went and locked myself in my office and left her crying in the kitchen.

She's sulking with me now and saying I overreacted but I really don't think that I did. She says I had no right to shout like that because she was always gonna give them back and it was all just a joke but that doesn't seem like a joking matter to me?? Especially because she knows one of the things my abusive ass parents used to do to me was withhold medication as punishment. I just can't wrap my head around how she thought I was going to react, and when I ask her she just says she thought I could take a joke.

Idk what to do here. Did I overreact? This has made me see her in an entirely different light and I just don't know what I should do.
---
---
No one is ever Bad In The Comments here, magically, even though literally anyone can comment, but a Good Reader expressed a (understandable) desire for dick in these trying times and a Bad Reader called her a whore and I have blocked him from commenting indefinitely. I am amazed this has not happened before but I assure you, I'll block a motherfucker. I'll block a man just to watch him be blocked. I am ruthless. If you see something, say something.
---
Some brilliant soul rainbow-chalked their entire home to amuse their kids and wow, nicely done:
---
My friend Katelyn Burns wrote this lovely thing:
On a Friday in a little Cambridge, Massachusetts, ice arena, as a gaggle of middle schoolers lingered after a game and two men's league teams were taking the ice, 17 hockey players were huddled in a corner, getting ready to make history.

Jessica Platt's excitement shone in her eyes as her teammates on Team Trans, perhaps the first-ever all trans hockey team to play a game together, dug through a stack of blue and pink uniforms to find their own. Platt, a 30-year-old former CWHL player, said she had stopped playing hockey in her early 20s because she was uncomfortable with the overly masculine attitudes of the male players who surrounded her.

"I pretty much had to be careful how I presented myself," she said. "I got really good at putting on the facade of who I thought I needed to be, and I tried to stick to that as closely as I could when I was in that area. I was a little bit more myself around my friends, but definitely not in the hockey scene."

Platt traveled from Toronto to play with Team Trans, which was taking part in the 2019 Friendship Series tournament hosted last November by Boston Pride Hockey, New England's largest LGBT hockey association (not to be confused with the Boston Pride of the NWHL). About five years ago, she finally felt comfortable enough with her transition to enter a women's locker room and return to hockey. Though she had never met many of her new teammates, they bonded quickly around the familiar fear and anxiety they had felt to play a game they loved.
---
Lucinda, no. Bad Lucinda! (shakes can of coins at Lucinda):
I've been working in the same department since I graduated college four years ago. Due to a few sudden departures amid a restructuring, I was promoted much more quickly than is typical at my workplace. (I went from the department assistant to an "associate manager" within a couple of years, though I don't manage anyone or have any direct reports.) My boss assured me that I was more than competent to take on this role and I've never felt overwhelmed or out of my element.

But Lucinda, a coworker of mine who shares my title, routinely treats me like I am her subordinate. I've worked at the company for longer than she has by about a year, but she's just slightly older than I am (nearer 30). This is probably her second or third job since graduating college, and she has a master's degree. I've recently been instructed that I will be taking over a large, annual project she had been handling for the past two years. She is apparently too busy to be involved with the project any longer. Problem is, she's been sending me condescending emails about the work, with my boss cc'd, asking me why a report isn't finished or a blog post hasn't gone up. For example, if I tell her I'm waiting on someone else to send me material, she tells me I need to "communicate my needs" better.

My boss has already given me a timeline for the project, which I've been doing my best to meet—to be fair, now that we are working from home, things have been delayed. But why does Lucinda feel like she should be the one to reprimand me for that? Especially when my boss seems not to mind whatsoever? If Lucinda is too busy to handle this project, how does she have time to complain about how I'm handling it? I get the feeling she finds me generally immature and is trying to get me into line. I also think she thinks of herself as more qualified and experienced, which leads to her "forgetting" that she is not, in fact, my boss.
---
Out of solidarity with my friend from yesterday's newsletter who had a SURPRISE! VIDEO! job interview, I have purchased the shirt he was wearing. You will have to imagine the look of confusion, mild terror and straight male bedhead for yourself:
As our friend Carina said, "Best to approach any interview with a clear stance on Fresno—and really the entire San Joaquin Valley".
---
Today's Absolute Unit is Ian McKellan's Big Stunt Double from LOTR, truly a lad we're in awe at the size of: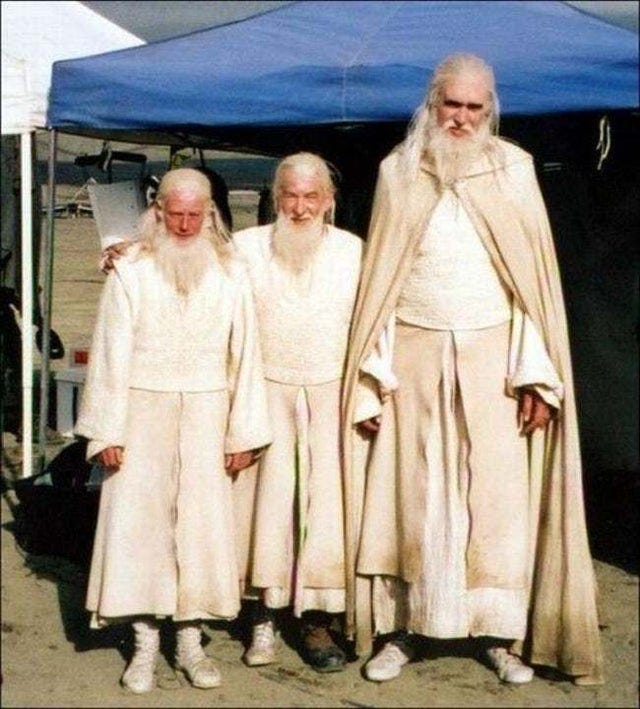 ---
MUSIC:
Me, blocking people:
Are we emo enough yet to be re-listening to Jeff Buckley? I am!
This just always makes me laugh:
Which, of course, always leads back to Icona Pop:
It's been so long since I ugly-danced to Robyn:
"Elaborate Lives" from AIDA is a banger, I don't make the rules:
RIP to Adam Schlesinger, a great talent and, by all accounts, a helluva dude:
One of his best for Crazy Ex-Girlfriend:
He did not write this one, it's just objectively very good:
This one is for the UK (you are having a very hard time!):
This is for Amelia:
This is for me:
This will be you, when you can go out again:
---
You got through another week! I promise you, there is someone who would not have gotten through this week if you were not here, in whatever way you are able to be "here" for people. Maybe you drew them a silly picture. Maybe you shared a video about sourdough that was different from all the other videos about sourdough. Maybe you are a food delivery person or a health care worker or a sanitation worker. Maybe you are just a good friend. I bet you are. If you sent me a nice email, thank you so much. I read it and it gladdened me. I hope you get to feel some sun on your face and your forearms. I hope you get to eat something delicious. I hope you had a nice cry at some point. A nice cry is underrated, and then you usually feel a lot better.
You are my friend. A good friend. I'm so glad to have you with me during this time. I couldn't do it without you. I really couldn't. I love you.
xoxooxox
nicky