Tuesday
Okay, now that we've all had a good, cathartic cry, we can move on with our day.
---
Our Featured Pet of the Day is here to help us. Everyone, meet Lulu: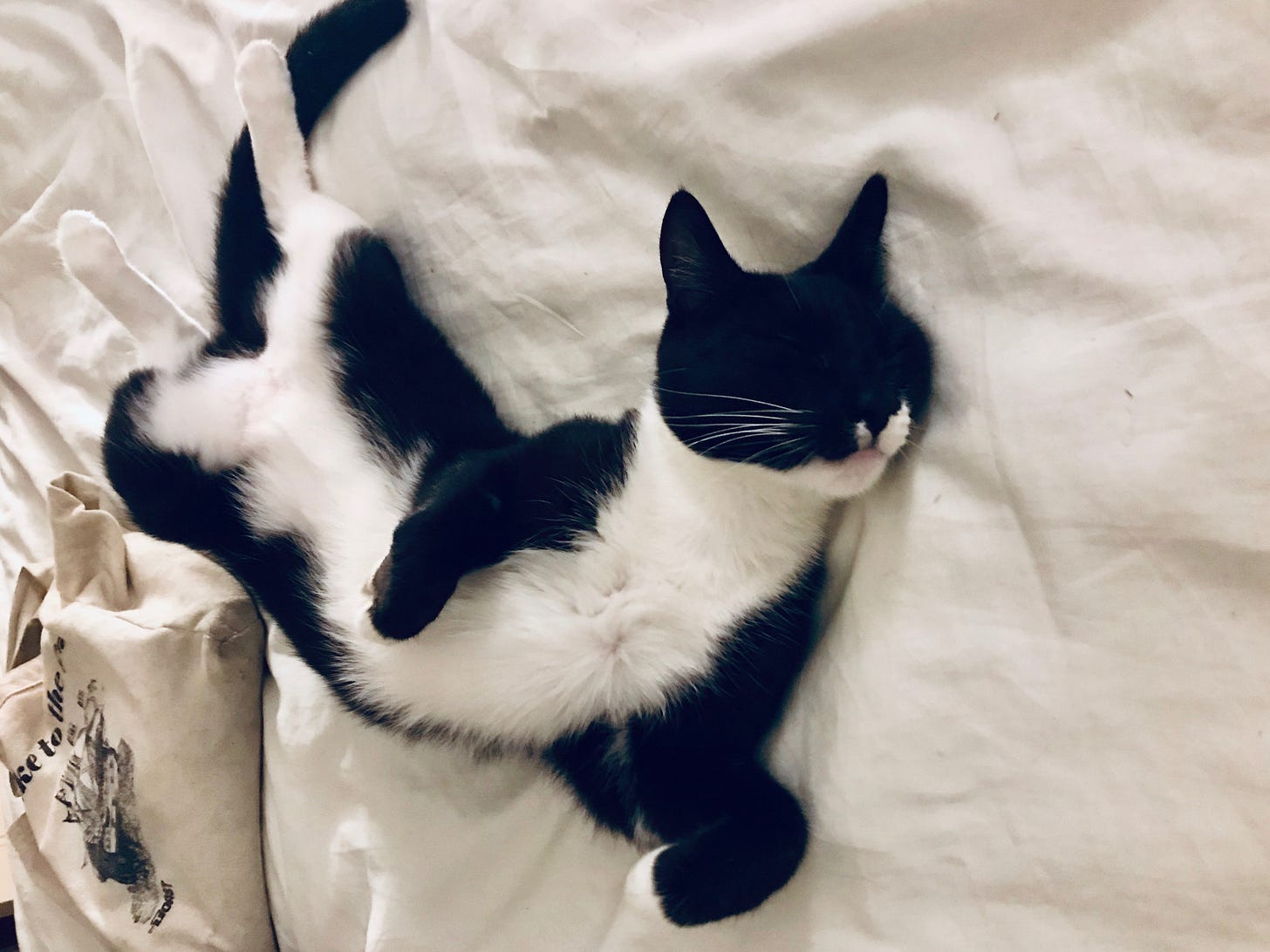 Her human companion, Joanna, reports: "Lulu adopted me and my boyfriend in April 2017 by scratching at the screen window in our bedroom until we let her inside. She trotted around the house, sniffed some things, then trotted out. We went to bed but left the window open. In the morning we woke up to find her snuggled between us in bed. Since that day we have more or less submitted to her authority."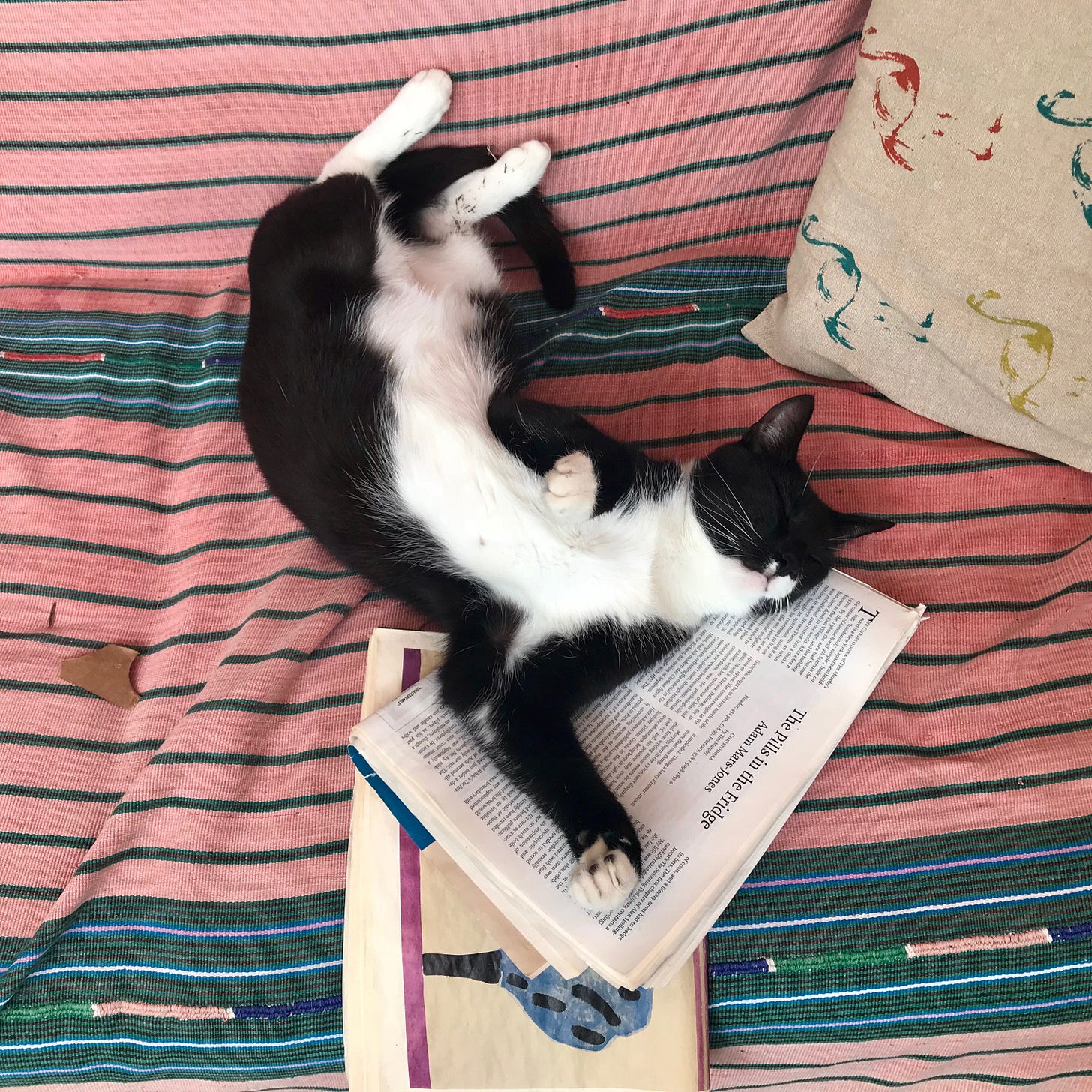 "She is both a lover (has big lap-cat energy when she feels like it, especially when I come back from an overnight trip) and a fighter (hunts our feet, scraps constantly with the cat across the road, has killed at least one snake). Once I tried to put a collar on her and within a few days she had taken it off and hidden it somewhere where I would never find it again. Her hobbies include sleeping in weird positions and drinking from what we erroneously believe to be our water glasses. She shuns fresh fish but will cry piteously for the juice from a drained can of chickpeas."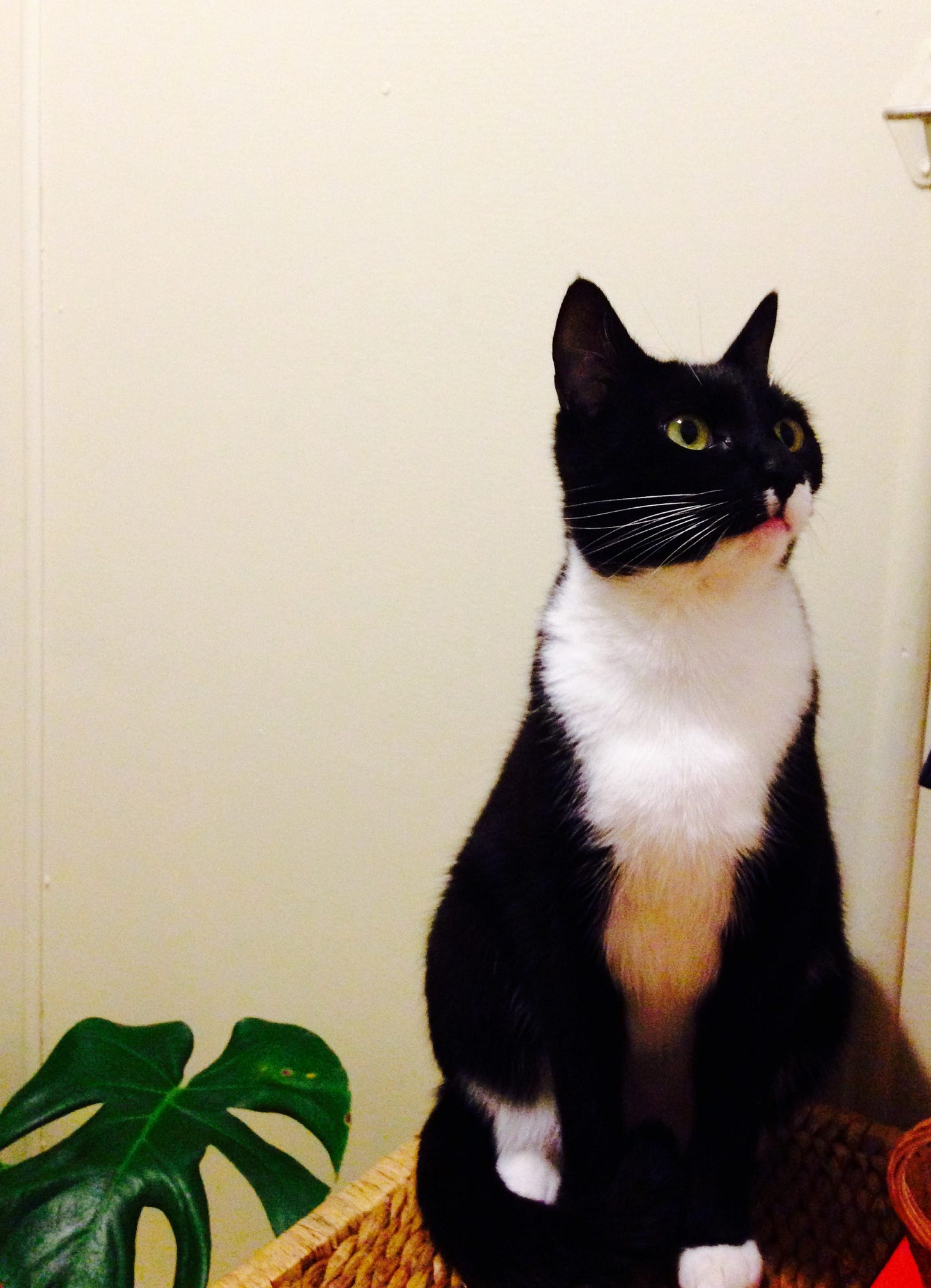 "My boyfriend and I love her very much and derive constant joy from singing songs in which we replace the lyrics with references to her (e.g. 'I Will Always Love Lu')."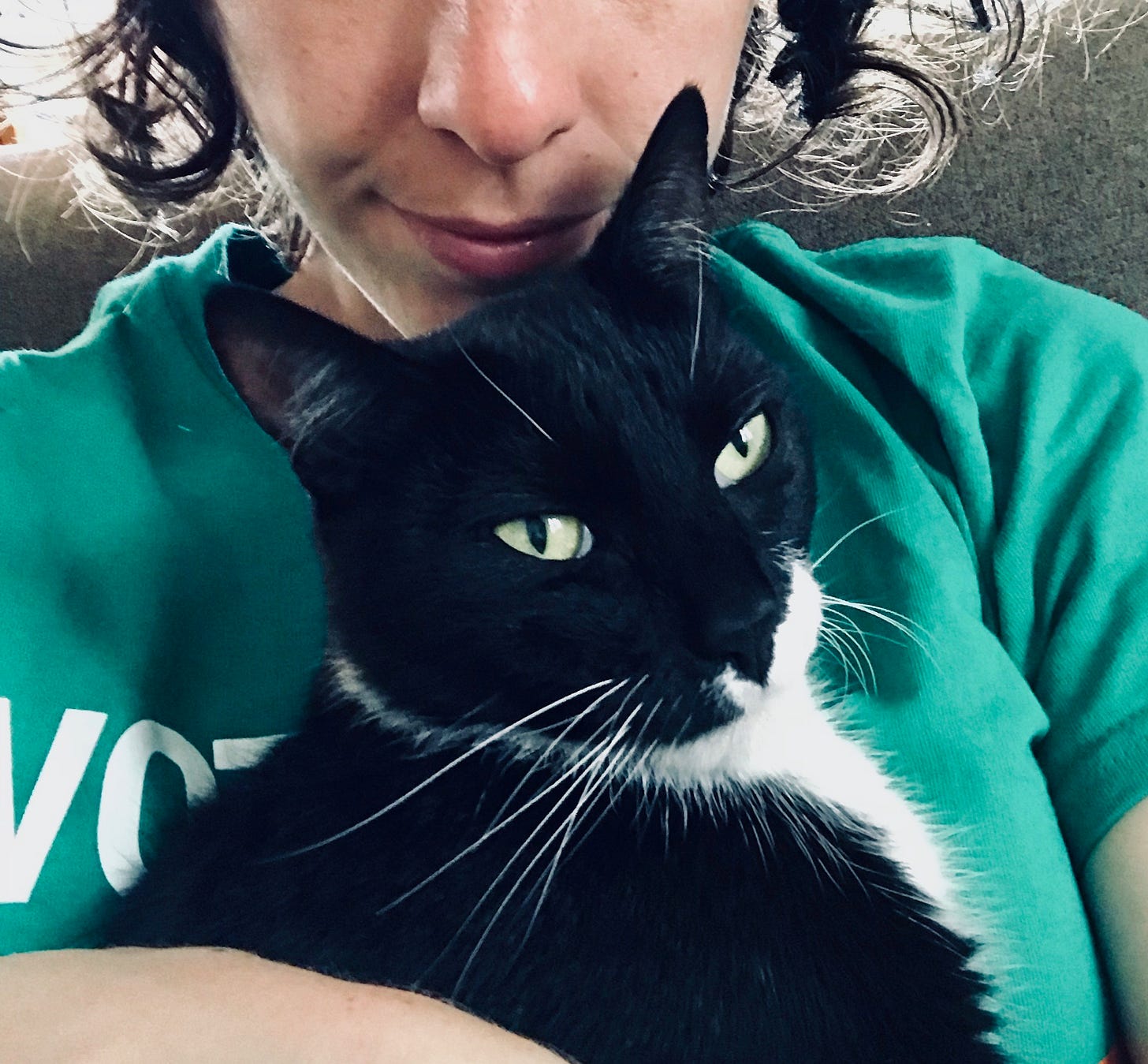 Thank you so much, Lulu and Joanna!
---
I learned a lot about what's happening in Hong Kong from this:
Hong Kong, a semiautonomous Chinese city of 7.4 million people shaken this summer by huge protests, may be the world's most unequal place to live. Anger over the growing power of mainland China in everyday life has fueled the protests, as has the desire of residents to choose their own leaders. But beneath that political anger lurks an undercurrent of deep anxiety over their own economic fortunes — and fears that it will only get worse.

"We thought maybe if you get a better education, you can have a better income," said Kenneth Leung, a 55-year-old college-educated protester. "But in Hong Kong, over the last two decades, people may be able to get a college education, but they are not making more money."

Mr. Leung joined the protests over Hong Kong's plan to allow extraditions of criminal suspects to mainland China, where the Communist Party controls the courts and forced confessions are common. But he is also angry about his own situation: He works 12 hours a day, six days a week as a security guard, making $5.75 an hour.

He is one of 210,000 Hong Kong residents who live in one of the city's thousands of illegally subdivided apartments. Some are so small they are called cages and coffins.
---
WILDLY enthusiastic for Wudan Yu to kick ass:
In late May, I returned home after four weeks on the road. I spent two of those weeks on vacation, and another two on the East Coast, visiting family and friends. I hadn't worked much in about a month and — perhaps against my better judgment — I looked at my checking account, hoping that all my outstanding payments had been made in the time I was away.

They had not. A payment of nearly $2800 was past due. Another $1000 from a separate publication was also missing. And a third client owed me approximately $1200. I hadn't received the check..

I have been freelancing for over five years. In that time frame, I've never been in a circumstance where that much money was cumulatively owed to me and not paid on time. Usually, when the check didn't come, the most I did was follow up with my editor or the head of an accounts payable department to ask when I would expect to get paid. But being owed about $5000 really hit critical mass — that's the minimum amount of money I need to bring in every single month to put away some of it for taxes, then pay my rent and credit card bills.

Looking at my bank account statement, I was first shocked, then panicked, then livid. After I cycled through those emotions, I decided to take action.
---
---
---
Toasties will remember our beloved house linguist Gretchen McCulloch from her wonderful columns explaining How We Speak Now, and I am all verklempt to see her book reviewed in the paper of record:
Take "LOL," or what is now more typically written as "lol." As early internet slang, "LOL" meant "laughing out loud," but then its definition softened, acquiring additional layers of meaning. The lowercase "lol" is still a "word in transition," McCulloch says, signifying "amusement, irony and even passive aggression." It can temper a statement that might otherwise sound confrontational ("what are you doing out so late lol") or gently poke fun at someone ("good morning lol" to a friend who woke up at noon).

McCulloch is such a disarming writer — lucid, friendly, unequivocally excited about her subject — that I began to marvel at the flexibility of the online language she describes, with its numerous shades of subtlety. Emotions can be quickly and efficiently conveyed by the "sarcasm tilde" ("isn't that ~special") and "expressive lengthening" ("yesssss" and "bothhhh"). A lot of innuendo can be contained in the tiny emoji of an eggplant.

But being attuned to such fine gradations of meaning can make for extreme sensitivity, too. A Full Internet Person might read annoyance or anger into a sentence that ends with a period. I was surprised to learn that the dot-dot-dot of ellipsis in emails and texts, which I usually associated with a simple (and harmless) pause in thought, is "especially perilous." Younger people indicate a simple pause with a line break or a new message; they "infer emotional meaning" from an ellipsis because they wonder what it's doing there, and what it might be insinuating.

Reflecting on these changes in "expressive typography," McCulloch is fully celebratory: "I'd gladly accept the decline of standards that were arbitrary and elitist in the first place in favor of being able to better connect with my fellow humans." She sees internet language as offering us a chance "to write not for power, but for love." But it's hard to look at online discourse today and fail to notice that some people are writing for hate. The "in-group vocabulary" of internet language and memes isn't just inclusive; its ability to induce a "rush of fellow-feeling" often relies on excluding an out-group, too.

Formal language can be chilly and impersonal, but it abides by explicit rules and can therefore be taught, rather than relying on fuzzier paths of transmission. As McCulloch herself observes, the formality is designed to appeal to a general audience — something that used to sound basic and boring but seems to be in awfully short supply these days.

"One type of writing hasn't replaced the other," McCulloch writes, taking care to emphasize that the situation between formal language and internet language isn't zero-sum. She's immersed in online life, where she sees the future looking emancipatory and bright. "There's space, in this glorious linguistic web, for you," she insists. I hope she's right lol.
---
---
Flattery? Why, thank you:
Once you start reading Slate's advice columns, it's hard to stop. Unlike in newspapers of old, where you had to wait for the next week's column to come out, you can binge on Slate's online archives. (I am also a person who used to pore over Best of Ann Landers and Wake Up and Smell the Coffee!) That's why Slate tends to see its advice columns take off once they have a sufficient archive to support binge-reading. New ones are published almost daily.

Slate now has three advice columns — Care and Feeding, for parenting advice; Dear Prudence, for general relationship/being-a-human questions; and How to Do It, for sex advice. Care and Feeding has four rotating columnists (Rumaan Alam, Nicole Cliffe, Michelle Herman, and Jamilah Lemieux), How to Do It has two (Rich Juzwiak and Stoya), and Dear Prudence is written by Daniel Mallory Ortberg, the cofounder (with Cliffe) of The Toast. The columnists vary in race, gender, sexuality, and geographical location, representing a break with the traditional advice columnist as white cisgendered woman. Dear Prudence, at 22, is Slate's oldest advice column. Ortberg was preceded by Emily Yoffe and, before her, Margo Howard (the daughter of Eppie Lederer, aka Ann Landers). Care and Feeding launched at the beginning of 2018, and How to Do It is new this year.

"From an audience development perspective, the advice columns are a dream," said Bill Carey, Slate's senior director of strategy. "We'll see loyalty build within the advice column, and then they start reading more of Slate as a whole" — and then, hopefully, becoming members of Slate's membership program, Slate Plus. People who read Dear Prudence, for instance, also tend to read Slate's politics content; people who read Care and Feeding will likely then head to Slate's other parenting content. Across the advice category as a whole, Slate's unique visitors are up 85 percent over this time last year, with pageviews up 48 percent. Individually, Dear Prudence's unique readership is up 43 percent over last year, while Care and Feeding's is up 64 percent.
---
YES:
The Great Recession has, in many ways, defined American life for the past decade. The economic wounds continue to fester, particularly among a citizenry so accustomed to pining for precisely the sort of wanton excess that the Recession's perpetrators, who walked free, enjoyed and cultivated. Even then, there were signs the criminals wouldn't really suffer. In August 2009, the reality series Shark Tank debuted on ABC at the height of America's uncertainty as the unemployment rate rose to 9.7 percent. It immediately became an enduring hit, reflecting our culture's impossibly messy relationship to the one percent just as we needed a reminder about the power of money.

For the uninitiated, Shark Tank is a show where aspiring entrepreneurs bring their small businesses or ideas to a panel of "sharks," ultra-wealthy investors looking to become partners. They present themselves with increasingly elaborate pitches, bringing along props, sob stories, groan-inducing dialogue and bits, or even celebrity spokespeople, all in an effort to stand out. They make sure that whether or not they land a deal with a shark, their pitch will air on TV, aiming for the "Shark Tank effect" to raise their profile. Recent seasons have featured sharks like former MLB star Alex Rodriguez, billionaire Richard Branson, and Bethenny Frankel. Mark Cuban, the owner of the Dallas Mavericks, has been around since the beginning, as has Kevin O'Leary, the outspoken Trump-like king of the show who, in 2017, unsuccessfully ran to be Canada's prime minister with the Conservative Party on a platform of lowering taxes and regulations.
---
whaaaaaat horseshit:
---
yeah, this is a tricky one:
We held an interview with a candidate for a part-time position who had been out of our line of work for 10 years. I interviewed her because she had some other things on her resume that seemed really interesting (she has been running a local online platform for 10 years with one other family member, so she has lots of social media and other outreach skills). Still, we are a quickly-changing industry and it is unusual to grant an interview to someone who isn't up on the latest developments. So I thought she would be overjoyed when we decided to check references and most likely offer her the job.

She told us she could not provide any work-related references — none at all — because (a) the ones from our industry were too old; and (b) it was important that nobody she deals with via her current business knows she would be also working for us, as they had to be under the impression that she is at her online job and available to them at all times. She offered us two personal references, both close friends. We asked again for anybody who could speak to her work ethic, attitudes, demeanor, etc. (a vendor, for example, if she'd rather not have customers know).She again refused. So we moved on with another candidate.

The other candidate is great, but I can't help but wonder how she thought this would work if she did in fact get the job. Is it normal for people who are running small businesses and have a side job to maintain a sort of cordon sanitaire between their two jobs? She did not even name her business on her resume — just put "family business" and mentioned the key elements of it. I figured out what it was as I am interested in the topic her online platform covers. They have 23,000 followers on Facebook so I'd say very solid for a local, niche platform, but she's not running Microsoft. Why the secrecy? Would people she deals with for her online business care if she had a job with us a few days a week? How could it possibly be damaging?

The best explanation I've come up with is that she is embarrassed that the business is not as profitable as she would like, which I assume is why she interviewed with us. But that is such a normal thing in family businesses, it's hard for me to see how it could be important enough for her to lose a job over. What's your take?
---
---
MUSIC VIDEOS:
bruce doing "secret garden" live (yes, I have done this already)
oxford comma
cape cod kwassa kwassa (Richard Ayoade directed the video!)
florence
september seems a long ways off but we will make it
wham!
karma chameleon
raspberry beret
sorry not sorry
the cheesiest song in the world which I think I hate but also love
---
Love you, each of you, very much. Onwards!
xoxoxo
n