Today's Featured Pet is Sisu:
From Gemma, her human companion: "She's a Corgi/Husky/Goodness-knows-what mix who we rescued after Hurricane Florence. Sisu enjoys cheese, snoozing, and watching the Celtics. Her name is Finnish, translated loosely, it means "an inner reserve of resilience, tenacity, determination, or perseverance". It's a weighty name for a little dog, but she carries it with grace."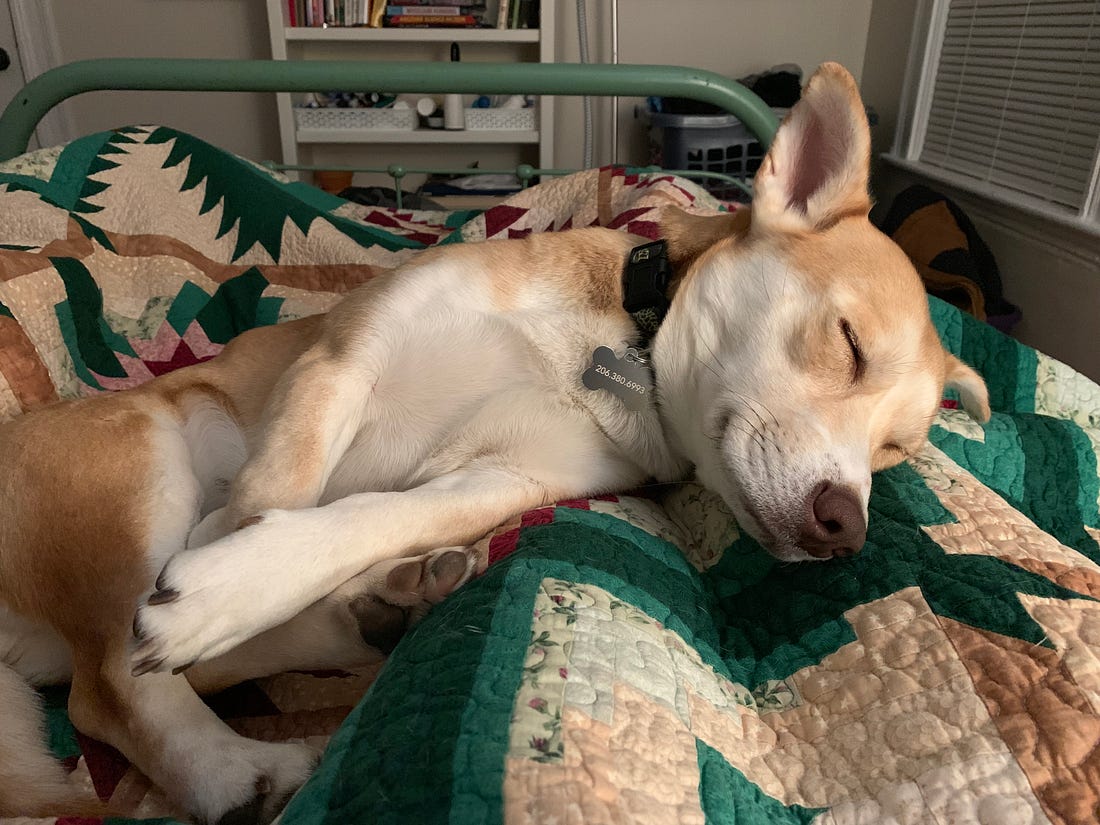 What a LOVELY girl. Thanks, Gemma!
---
My boobs (which are phenomenal in general) looked so good in this and barely ANYONE complimented me on them:
---
Horror novel time! So, I came extremely late to Ghost Story by the legendary Peter Straub, i.e. a few months ago at the cabin. It was written in 1979, is immensely famous, and I just…never read it. And then I did, and it was dope as fuck!!!
From the publisher:
What was the worst thing you've ever done?

In the sleepy town of Milburn, New York, four old men gather to tell each other stories—some true, some made-up, all of them frightening. A simple pastime to divert themselves from their quiet lives.

But one story is coming back to haunt them and their small town. A tale of something they did long ago. A wicked mistake. A horrifying accident. And they are about to learn that no one can bury the past forever…
Strongly strongly recommend.
---
Another round of very brave people to inspire us:
In the early hours of 12 January 2008, Mr Tucker rescued two children from a burning house at Cranbourne, Victoria. Mr Tucker heard the sound of a nearby smoke alarm and on investigating saw a neighbouring house on fire. He ran to the building to see a mother and father screaming that two of their children were still inside. Mr Tucker raced into the house where sections of the roof had already collapsed and with dense choking smoke restricted his visibility, he was forced to retreat. Mr Tucker grabbed a torch and re-entered the house only to find the light was of no use in the thick blanket of smoke. Covering his face and mouth with a dressing gown, Mr Tucker entered the building for a third time. He struggled through the house but found that access to the children's bedroom was blocked by huge flames. He then raced outside to the back of the building and climbed through a window. He was feeling overcome by the heat and his breathing was dangerously impaired by the black toxic smoke. As Mr Tucker felt his way around inside he stumbled over the two children huddled together under a doona. The smoke was so thick and disorienting that Mr Tucker could no longer see where he had entered the room. As the fire began to consume the house Mr Tucker persisted with his efforts and instinctively found his way back to the opening. One by one he passed the children to the arms of waiting neighbours. Exhausted and overcome by smoke, Mr Tucker fell through the window and slowly crawled away from the burning house. He was helped over a fence where ambulance administered first aid. By his actions, Mr Tucker displayed conspicuous courage.
On 29 July 2006, Mr Cook shielded an Australian passenger during a plane crash at St. Louis, Missouri, United States of America. Whilst visiting and working in the US, a young Australian woman joined a group of people to make a tandem skydive. Her instructor was Mr Robert Cook with whom she would be harnessed for the skydive. Soon after take-off from an airport near St Louis, Missouri, the plane experienced serious engine malfunctions and the pilot attempted to return to the airstrip. Mr Cook, an experienced instructor, turned to the woman and calmly told her that the plane was likely to crash. Instructing her to focus solely on his instructions, Mr Cook clipped his skydive harness to hers, demanding that the woman wrap herself around him so that he could cushion her fall. As the aircraft lost altitude and crashed through a tree, the woman remembers being jostled around and slipping to the floor of the plane. Mr Cook pulled her back onto the seat and again pressed her against him. Moments later the plane hit an electrical wire and, as it plunged towards the ground, Mr Cook tightened his grip around the woman, acting as a human shield to protect her. Having entirely understood the implications of his actions, and as a result of his selfless courage, the woman, although seriously injured in the crash, survived the impact. Sadly Mr Cook died instantly as a result of his injuries. By his actions, Mr Cook displayed conspicuous bravery, thereby losing his life.
On 7 February 2009, Ms Casey rescued her friend and colleague during the 'Black Saturday bushfires' at Kinglake, Victoria. In the midst of the Black Saturday bushfires, Ms Casey, a member of the Country Fire Authority (CFA), assisted her friend to defend her house in Bald Spur Road, Kinglake from the firestorm. With safety considerations paramount, her friend asked Ms Casey to leave as the fire front approached. Ms Casey managed to return to the Kinglake CFA shed and remained until the fire front had past. As darkness approached, Ms Casey became aware that her friend's situation had become dire, so decided to drive back to assist. She drove through the fire-stricken forest until she was unable to travel further due to the fallen and burning trees which had blocked Bald Spur Road. Using a torch, Ms Casey left the safety of her vehicle and walked about 600 metres along the road until she found her friend, badly injured and almost unconscious. In very difficult conditions, Ms Casey assisted her friend back to the vehicle and again negotiated fallen trees to return to the main road and back to the CFA shed. With no ambulances available, local police officers were able to transport the woman to Whittlesea, Victoria to receive urgently needed medical attention. By her actions, Ms Casey displayed conspicuous courage.
---
I personally am flipping out:
Don't get me wrong, I love my Hitachi. But I have a warning!

I use mine daily. I hold it in my left hand. After three months of daily use, I started losing sensation in my fingertips. I thought no big deal. Took a break for a week. Still no feeling. Shrugged and went back it it. Now, a year later, my ring-middle-pointer fingers have no sensation. I finally fessed up to my doctor, who did neuro testing and found out that my nerves are numb and it is permanent. They said it can happen from too much vibration. I can still feel my junk, so at least there's that!

Just. Be careful with heavily vibrating things.

What the fuck my most upvotes are due to me being a horny idiot
AH, r/OSHA comes through again:
OF COURSE THEY SHOULD BE DOING THEIR OWN LAUNDRY SO THEY AREN'T TERRIBLE BOYFRIENDS IN A FEW YEARS:
Similar to another post so I was curious.

I have 2 teenage boys and for my whole life, I've done their laundry. However, they repeatedly leave things in the pockets that ruin the load. I try to check but sometimes things slip through because they wear a lot of cargo pants and I don't feel their pens. Going through every pocket adds a good 45 mins to my work.

I told them time and again to make sure they weren't leaving pens in their pockets, but they don't listen. After another ruined load of clothes, I just threw my hands up and told them to do their own laundry. That way they don't ruin mine and my husbands clothes. My husband thinks I'm being too harsh. AITA?
(meryl streep yelling gif) BREAK THE FUCK UPPP:
We've been together 4 years. He's never seemed that into me, but has always said he's attracted to me.

Recently he was talking to another woman online and I freaked out. I suspect they were sexting, but he deleted all their communication. We've fought a lot and he finally agreed that no, I'm not really his usual "type" but he loves me and there are things he needs me to change in order to be more appealing to him.

The list feels long and unfair. But maybe I'm looking at it from the wrong perspective, so I'm hoping strangers can help me know if this is reasonable.

Part of the issue is that he is not super physically attractive (short, overweight) or fashionable. He's also not my "type" on paper, but I've always been very attracted to him. I don't need him to change stupid little things in order to want him.

He's told me I should maybe change my hair color because he always is more attracted to blondes (I have dark red hair). He has suggested contacts because he isn't really attracted to glasses (yet he wears glasses). He has said he hates my shoes (he prefers heels.....but I cannot wear heels). He prefers dresses (I love jeans). He likes more feminine clothing and says I dress manly (I always have worn button up shirts, jeans, flats). My signature colors are black and white. In fact most of my clothes are black and white. I've tried a few times wearing sundresses. Not only do I feel uncomfortable, I've never gotten any feedback from him. Not sure if he even notices.

He likes "long red nails". Fine, but I work with my hands and I keep my nails on the shorter side, but I'm happy to paint them red. I've always trimmed, but he only likes fully shaved. I find this itchy and uncomfortable, but I've tried a few times (again, not sure he's noticed). I like to do my make-up when we go out. He prefers "just lash extensions and clear lipgloss". He has complained about various staples in my wardrobe, so I cut them out (my winter coat, the hats I wear when it's cold, my favorite boots). He has just told me he doesn't really like my perfume (the one I've been wearing since I met him). Now he's also saying he would prefer it if I were about 25 lbs lighter (he has a point on this, but I've always been this weight during the past 4 years).

To me, these things seem shallow and like he's trying to change who I am. I'm not a dress-up doll. I've always looked this way, so I can't understand why I now should have to change for him. I asked why he bothered with me in the first place and he says because he fell in love with my personality, but he's finding it hard to be attracted to me.

He has never asked what I like about him. He doesn't trim/shave/anything. He wears clothing I don't necessarily find "attractive" (but nor do I care). I feel so self conscious around him now. But if he's been honest with me about what it takes for him to be attracted to me (and if it will rev up our dead bedroom), should I just accept it and try harder? I'm just afraid it's a slippery slope and soon he'll find new things that he doesn't like about me.

tldr: we have a dead(ish) bedroom and my boyfriend is saying it's mostly because he doesn't find me all that attractive and has given me things to change in order to make him more interested. Is this acceptable?
when having difficult conversations over text i believe in a method called "the sandwich approach" it's where you send one meme, then six emotionally vulnerable texts, then another meme and an "lmao" as a garnish
SKIP IF YOU ARE NOT SOMEONE WHO ENJOYS GROSS BODY STUFF:
Immediate apology pic:
Belated sweet Mother's Day moment:
My boyfriend, who was raised by four lesbian moms, had been on the phone for two hours already.
Some music videos:
Let's crush this week, my dearest loves!
xoxoxxoxoxoxo, n