we're working towards normality
What is a better way to start recovering from this terrible week than a Featured Pet of the Day? Let's meet Finnikin (aka Finn.)
According to his human companion, Maria: "He is not only the chonkiest, and silliest cat, he is also the prettiest."
"We got Finn 7 years ago when we moved to London from Spain and my now husband (Aleix) went for a job interview he didn't think he would get, and I said: If you get the job, we get a cat. And so we did. In my humble opinion, this was the best "if-this-then-that" negotiating I've done in my life and I negotiate for a living.
Finn has brought us more joy than I can put into words. He plays fetch, he will hound you for cuddles, he will sleep on you and he will eat anything. He brings us all sorts of disgusting semi-alive creatures from the outside and we love him more than we can say.
Finn loves everyone and has the biggest heart. He has forgiven us several times, first when we got another cat with whom he has a love-hate affair; then when we moved to a flat with no garden and finally when we had our daughter three years ago."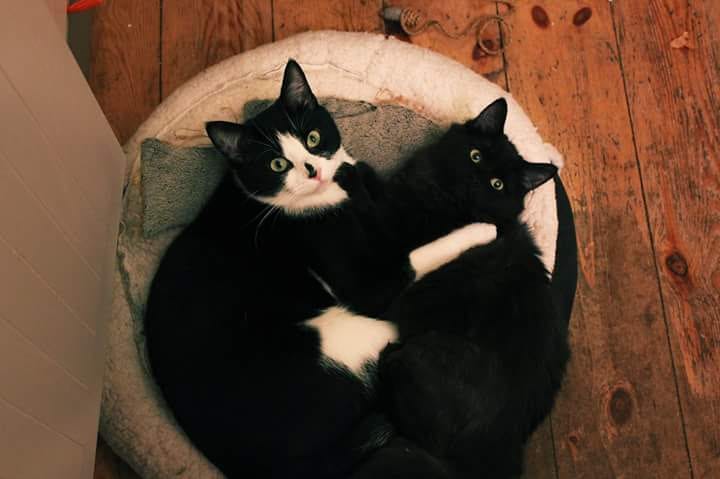 "He loves her, really."
Finn is having some health issues and doesn't have the greatest prognosis, so let's send him and Maria all our prayers and our best vibes. He is one of us now.
---
I'm finally watching the Creep movies and am viscerally uncomfortable!
---
---
I've recently returned to the teaching field. While I know there are plenty of stories about the budget woes of teachers, my prior experience wasn't so bad.

The school year is approaching and I have been trying to get my class in order. My principal asked for a list of requested supplies and items, and I gave her what I thought was a modest list, the basics to get the year rolling.

She got back to me with the information that the teachers at the school usually paid for such things themselves. I asked if I did have a budget and was told it was "more of a discretionary fund and it looked better to the community if the teachers pitched in more." Further talk revealed this pitching in was to the tune of several thousand dollars per teacher.

Yeah, no. First, I believe strongly this habit of teachers buying things has got to go. Second, while my husband and I aren't hurting by any means, we do have a lot going on and paying three thousand dollars to my job just isn't in the budget.

Perhaps this was the wrong thing, but I went with Reason Number 2, I didn't have the money to pay for these supplies.

She nodded in understanding, said she knew how things could be, and that she recommended I bring in my household budget to go over with her — she was quite certain she could find the money.

I wasn't sure how to respond, so I gave a simple no, I would figure it out myself.

I don't want to use this letter to scream at the state of public education funding, but wow, am I wrong to be horrified and shocked my boss would want to go over my personal budget?
---
---
oh good gravy, you are not the asshole! people can ASK, but they can't pressure you!:
My older sister (33) is gay and has been married to her wife (34) for a little over three years now. They recently announced to our family that they would like to start trying for a baby. Our parents, of course, were delighted at the idea of their first grandchild and my other sisters were thrilled at the idea of becoming aunts.

I (31) am extremely single and also extremely child free. I do like kids but I just don't see myself ever having them, which everyone in my family has learned to respect. Still, I was really happy for my sister and her wife. I thought maybe I could be the kid's favourite uncle and I was excited about that.

Or I was, until my sister approached me later that night and asked if I would be interested in donating sperm to her wife for the purposes of insemination. I thought she was joking at first. She said that this was the only way she could possibly be related to the baby, as her wife would be carrying it. I said no, because I have absolutely zero desire to be a father. She said that I wouldn't be a father, I'd be an uncle who donated his genetic material. I said no again and she got upset and left in a hurry, taking her wife with her.

Now she won't speak to me. What's more, she's gone and told our entire family what happened and most of them aren't speaking to me either. Only my youngest sister and my dad seem to understand why I said no. Everyone else thinks I'm being selfish to deny my sister her only chance at being related to her child.

AITA here?
---
danny sent me this and i'm not well
---
AITA for serving my friends mealworms in a quiche without explicitly telling them it contained insects?

The title basically already explains it all but I guess it doesn´t hurt to add some context:

I [F27] recently decided to mix sources of protein into my diet that some would call unconventional. While I still eat (locally bred) poultry from time to time, I decided to try out insects such as mealworms to improve my ecological footprint and step away from large-scale livestock farming. I did not make a huge deal out of it and did not expect any of my family or friends to stop consuming animal products like meat in any way.

My friends and I usually gather once or twice a month to have dinner together, which one of us usually cooks at his or her home. So it happened that it became my turn to provide food for our group of five. I decided to make a quiche, and instead of the beef, as the recipe suggested, I just used mealworms. My friends came over and had dinner with me, and enjoyed the evening and the food I had prepared. Neither of them seemed to notice something out of the ordinary or commented on any of the individual components of my quiche.

Important notice: I did not pretend that the quiche contained beef/pork/chicken/whatever -- actually, I didn´t comment on the "meat" at all. Maybe it is also vital to know that I had never prepared a quiche for my friends before, so it is not like they expected it to contain conventional meat when they ate it. If one of them had asked about it, I would have absolutely told them. Also, I know that none of them has an allergy against mealworms.

I didn´t do this to prove anything really or to try to "convert" them. I didn´t think much of it until I spoke with my sister who was appalled and called my behavior sneaky and disgusting.

So, AITA here?
---
A month later, another of Shuen's patients arrived at the hospital from his clinic, again on a Saturday and again in rapid labour. This time, a nurse named Lindsay Bruer performed a vaginal exam on the woman and found the remnants of a little white pill. There was no mention of it on her chart. Whatever this pill was, it had been given to Shuen's patient without her knowledge or consent, and it had sent her into a violent labour. Bruer pulled off her latex glove, with the pill on the tip of its finger, turned it inside out and threw it in the trash. She went to the nursing station and told her colleague Karen Yu. This wasn't the first time something like this had happened: similar pills had been found in Shuen's patients twice before, in 2013 and 2015. Together, the nurses decided that Bruer should retrieve her glove from the garbage and put it in a specimen bag. They were going to test it and find out what it was.
---
YES, tell me about the toxic museum boards:
On July 25, Warren B. Kanders, a.k.a. the "tear-gas CEO," quit the Whitney Museum board after months of protests culminating in several artists' deciding to withdraw their work from the Biennial halfway through its run. It was just the latest callout to rock arts institutions, which — at least since the age of the Medici — have relied on the largesse of the very wealthy. (Today there are also tax advantages.) "Boards of museums in New York and the rest of the country have been washing machines for reputations," says Michael Gross, author of Rogues' Gallery, a social history of the Metropolitan Museum. "Traditionally, New York has not cared if you're red or blue as long as your money is green." But this laissez-faire attitude is under fire: Kanders's resignation comes after Mortimer D.A. Sackler, the son of one of the founders of OxyContin maker Purdue Pharma, stepped down from his post as a Guggenheim trustee and Steve Mnuchin resigned from L.A. MoCA after he was appointed Treasury secretary. "Everyone is vulnerable in these times," laments one former museum executive, who notes that this era feels more pointed and personalized than, say, the 1980s protests against the philanthropy of Philip Morris (which used to have a branch of the Whitney in its midtown HQ).

Which institution might wind up in the crosshairs next? We looked at the makeup of various museums and ranked whose ties make them likely targets of outrage. "There is no perfect way" to sort out whom to take money from, says the head of one institution that has started doing donor-background checks with "one of the world's leading data-mining firms." Activist groups like Decolonize This Place want structural changes, not merely what they call "a closed-door committee adjudicating the boundary between 'good' and 'bad' money." Artist Andrea Fraser, the author of 2016 in Museums, Money, and Politics, which compiles trustees' political donations, says, "Targeting particularly toxic individuals risks missing the forest by focusing on a few rotting trees," advocating that museums clean up their boards by democratizing them, eliminating the pay-to-play contribution requirements. But without increased government support, how will the arts be paid for? As Gross puts it, "Even if you disagree with someone's politics or you think they're utterly deplorable, if they're willing to give great gobs of money to expand your cultural institution, is it right to refuse that?" The activists think so. As Decolonize told us, "We savor the fact that these violent oligarchs are now sleeping with one eye open, and we would welcome further action against them (Kenneth Griffin, Nancy Carrington Crown, Pamella DeVos, we see you!)."
---
3. Should I suggest my employee with mobility issues get a different job?

I run a small call center, which is on the second floor of a two story building without an elevator. (It's actually closer to a third floor due to the first floor being double-height.) Due to the nature of our phone system and the job, we cannot offer employees the option to work from home, nor do we have any other locations.

We have an employee who, from a work standpoint, is a good employee. He has good numbers, he gets good reviews from customers, and he doesn't miss work.

But, I'm concerned about him from a health and mobility standpoint. He uses two canes and is significantly overweight. When he arrives to work, it takes him a solid 10 minutes to get up the stairs and at least 20 to 30 minutes to catch his breath from walking up the stairs, and he moves extremely slowly around the office and is clearly in pain, particularly during that time. I have found myself more than once stressing that he's going to have a heart attack or fall down the stairs when he's moving around.

He has health insurance, so I assume he utilizes his doctor, and he doesn't outwardly complain about the stairs, so I recognize that this problem is mostly in my head. I keep wanting to recommend that he find a position that doesn't require him walking up two flights of stairs each day, to help him put less stress on his body. But I also recognize that I'm not his doctor and there are no actual issues for me to address. Should I say something or just let this guy be until he decides it's an issue?
---
Hal Prince's greatest Broadway musicals, ranked:
3. Company (1970; director)

Oh, man. Company. How do you even write about Company, except to say it's the Ur-text not only of the Sondheim-Prince collaboration, but arguably of a huge swath of popular culture today? Previous to Company's explosion across the stage, the characters populating musicals were generally cowboys and gamblers and gang members and other exotic types. Rarely, if ever, had the upper- and upper-middle-class Manhattanites who made up a typical Broadway audience seen themselves so incisively rendered on a stage, in all their funny, neurotic, pretentious, jaded yet poignant yearning for meaningful connection. And if that doesn't seem momentous enough, think about this: Without Company, not only might today's musicals lack characters reflecting hip urban mores, there might also be nothing on television that didn't involve a cop, an emergency room, or a dragon. Yes, the show is that influential, whether the later works it influenced know it or not.

2. Fiddler on the Roof (1964; producer)

Of course, Company itself was not without prior influences. It's possible to draw a straight line back from those sophisticated New Yorkers, with their vodka stingers and marijuana and talk of sexual flexibility, to the stressed-out villagers of Fiddler on the Roof. Before those urbane, uptown, intellectual, cosmopolitan (and other veiled synonyms for "Jewish") Broadway audiences were ready to see their present-day selves on the stage, they needed to see who they — or at least, their relatively recent ancestors — had once been: a bunch of dairymen and tailors struggling to keep their balance in the face of poverty and oppression. As producer of one of Broadway's most unlikely megahits, Hal Prince had the foresight to see the universality in Fiddler's specificity. It may seem obvious now, but it took a leap of faith to realize that every culture, the world over, would be able to see its own image in the little Russian shtetl of Anatevka.

1. Sweeney Todd: The Demon Barber of Fleet Street (1979; director)

With its astonishing lyrical complexity, grim Grand Guignol humor, and dazzling score that leaps effortlessly from foreboding dissonance to heartbreaking melodic beauty, Sweeney Todd may well be Sondheim's ultimate masterpiece. It is undoubtedly Harold Prince's. While the show's many notable revivals have often aimed for a pared-down vibe (John Doyle, 2005, a.k.a. the one where Patti LuPone played the tuba) or a site-specific one (the recent British-transplant production that turned the Barrow Street Theater into a working pie shop), Prince's original Broadway production went big. Its vast set evoked the classist charnel house of Victorian London, a giant backdrop against which its stars, Len Cariou and Angela Lansbury, were made up to look like nightmarish yet terrifyingly real dolls.
The result is his crowning achievement, the greatest directorial triumph of perhaps Broadway's greatest-ever director. Nobody who saw it will ever forget it (even if they were a child, and it was a filmed performance for PBS's Great Performances series). For me, at least, Prince's Sweeney Todd created no shortage of images that are now permanently engraved on my brain. Just thinking of that barber chair still gives me the shivers. And really, what more can you ask from the theater?
---
You may not be aware that Slate has a pet advice column, BEAST MODE, but now you definitely are:
Dear Beast Mode,

I have two cats, a boy and a girl, both of whom have been fixed. I've had them for eight years, and I love them to pieces.

Today, something happened that I thought couldn't happen because they're fixed. I looked over at my male cat, and his whole penis was out and he was licking it. It made me super uncomfortable, partly because I've never seen him do this before and partly because it was on my bed.

I feel stupid asking this, but is this normal grooming and I've just never seen it before? Or is he uh, enjoying himself on my bed?

—Cat in the Act
---
Yes, leashes for runaway kids are FINE, thank you:
For the first 18 months of my child's life, we attended our popular local farmers market with her in an Ergobaby carrier and me pushing a folding cart full of purchases. When she got too big and vigorous for the Ergo, I had a decision to make: Strap her in a stroller and try to stuff all my purchases in its much smaller basket? Or let her walk and keep my big cart, a convenience to which I had become attached? Thinking it might be good for her, a small-town child, to get some practice walking in crowds, I chose the latter.

J. generally kept by my side and held my hand when I requested it. But there was one day when she saw samples of fudge laid out invitingly at her eye level in a stall down the row. She took off like a shot, darting between bystanders, completely oblivious to all of my calls to come back. That same week, I happened to read a tragic story from Kansas City, Missouri, about a 3-year-old who broke away from his parent, ran into a busy street, and was struck and killed. There were no cars near us when J. made a run for it, but what if there had been? Suddenly, I understood why people use child leashes—and I wondered why I'd always assumed I wasn't the sort of parent to buy one.
---
Love you all so much! Let's keep moving.
xoxox
n